Citrus Glazed Ham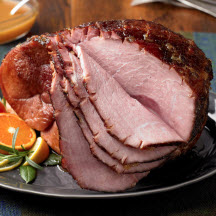 This ham is what the family looks forward to at the holidays. Scent your home with the delicious aromas of baked ham and citrus.
Recipe Ingredients:
1 (12 to 14-pound) bone-in ham
1/4 cup whole cloves
2 cups white wine
1 cup brown mustard
1/2 cup orange marmalade
1/2 cup raspberry preserves
Cooking Directions:
Preheat oven to 325°F (160°C).
With a sharp knife, score fat covering the ham in a diamond pattern. Stick cloves in where the lines cross. Place ham fat-side up in a shallow baking pan. Pour the wine in the bottom of the pan.
In a small bowl combine mustard, marmalade and preserves; spread on ham. Bake, basting frequently with the pan juices, about 2 hours or until internal temperature reaches 140°F on a meat thermometer. Remove from oven and let set for 10 minutes before carving. Serve hot or at room temperature.
Makes 20 servings.
Recipe and photograph provided courtesy of National Pork Board.