Grilled Greek-Style Pork Roast with Yogurt Sauce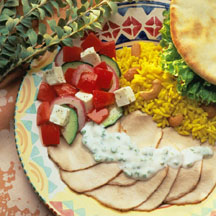 Lemon, garlic and oregano are the 'trinity' of Mediterranean cooking. And this culinary triumvirate marries perfectly with pork. If desired, thinly slice leftovers and tuck into pita pocket bread, topped with Yogurt Sauce. Serve roast with Italian bread, marinated tomatoes, rice pilaf and roasted asparagus.
Recipe Ingredients:
1 (3-pound) boneless pork loin roast
1/4 cup olive oil
1/4 cup lemon juice
1 teaspoon oregano
1 teaspoon salt
1 teaspoon ground black pepper
6 garlic cloves, crushed
1 cup plain yogurt
1 cucumber, peeled, seeded and chopped
1/4 cup minced red onion
1 garlic clove, crushed
1/2 teaspoon ground coriander
1/2 teaspoon salt
1/4 teaspoon crushed red pepper flakes
Cooking Directions:
Place pork in large self-sealing bag. Add olive oil, lemon juice, oregano, salt, pepper and 6 garlic cloves to bag; seal bag and toss gently to combine thoroughly. Refrigerate 8 to 24 hours.
Remove pork from marinade; discarding marinade.
Prepare medium-hot banked fire in covered kettle-style grill.
Grill pork over indirect heat, away from fire, for 45 minutes to 1 hour, until internal temperature reads 150°C to 155°F (approximately 65°C).
Let rest 10 minutes before slicing to serve with Yogurt Sauce.
For Yogurt Sauce: Stir together yogurt, cucumber, onion, 1 garlic clove, coriander, salt and red pepper flakes. Cover and refrigerate until ready to serve.
Makes 8 servings.
Nutritional Information Per Serving (1/8 of recipe): Calories 250 calories Protein 35 grams Fat 10 grams Sodium 290 milligrams Cholesterol 85 milligrams Saturated Fat 3 grams Carbohydrates 4 grams Fiber 0 grams.
Recipe and photograph provided courtesy of National Pork Board.