Herb-Crusted Mediterranean Pork Tenderloin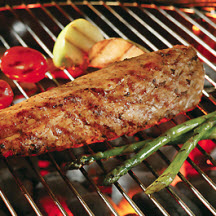 Recipe courtesy of the National Pork Board.
Recipe Ingredients:
1 pound pork tenderloin
1 tablespoon olive oil
2 teaspoons dried oregano
3/4 teaspoon lemon pepper
3 tablespoons refrigerated mixed olive tapenade
1 ounce feta cheese, finely crumbled (about 3 tablespoon)
Kitchen twine
Cooking Directions:
Place pork on large piece of plastic wrap. Rub tenderloin with oil; sprinkle oregano and lemon pepper evenly over surface. Wrap tightly in the plastic wrap; refrigerate for 2 hours or overnight.
Prepare a medium-hot fire in grill.
Unwrap pork. Make lengthwise cut through center of tenderloin. Cut to, but not through, opposite side. Open meat so it lies flat. Spread olive tapenade on half of tenderloin. Sprinkle with cheese. Fold other half of meat over to form original shape of tenderloin. Tie closed with twine at 1 1/2 to 2-inch intervals.
Grill tenderloin, uncovered, over direct heat for 20 minutes or until internal temperature reaches 145°F (62.7°C), turning tenderloin over halfway during grilling.
Transfer tenderloin to cutting board. Loosely cover with foil; let rest for 5 to 10 minutes.
To serve, remove string and cut into 1/4-inch-thick slices.
Makes 4 servings.
Recipe and photograph provided courtesy of National Pork Board.