Honey-Sesame Pork Chops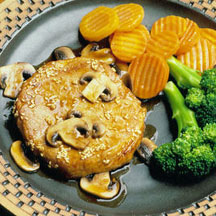 This 'quick-braise' dish features sautéed pork chops, seasoned with ginger, cinnamon, and garlic, and simmer briefly in chopped tomatoes. The ready-made pan sauce calls for rice, mashed potatoes or Oriental noodles as an accompaniment. Add a green salad tossed with garlic vinaigrette.
Recipe Ingredients:
4 boneless pork chops, 3/8-inch thick
2 teaspoons vegetable oil
1 (14 1/2-ounce) can diced tomatoes, undrained
1/2 cup minced onion
1 garlic clove, crushed
1 teaspoon ground ginger
2 teaspoons ground cinnamon
1/4 cup honey
1 tablespoon toasted sesame seed
Cooking Directions:
Heat oil in large nonstick skillet over medium-high heat; add chops and brown on both sides, about 3 minutes on each side.
Add tomatoes, onion, garlic, ginger, cinnamon and honey; heat to a simmer; cover and simmer until chops are cooked through, about 3 to 4 minutes. Remove chops, reserve.
Heat sauce to a boil, reduce to a simmer and cook until sauce thickens.
Return chops to pan with sesame seed. Heat through and serve.
Makes 4 servings.
Nutritional Information Per Serving (1/4 of recipe): Calories 280 calories Protein 24 grams Fat 8 grams Sodium 220 milligrams Cholesterol 65 milligrams Saturated Fat 2 grams Carbohydrates 30 grams.
Recipe and photograph provided courtesy of National Pork Board.