Jerk Pork Chops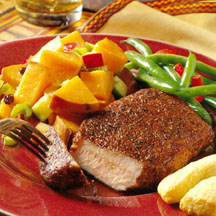 Complement these juicy, hot chops with green beans with bacon and onion, cornbread and sweet, fresh pineapple chunks sprinkled with shredded coconut.
Recipe Ingredients:
6 (4-ounce) boneless center-cut loin pork chops, about 1/2-inch thick
1 1/2 teaspoons ground allspice
3/4 teaspoons salt
1 teaspoon dried thyme
1 teaspoon ground coriander
1 teaspoon cinnamon
1 teaspoon nutmeg
1 teaspoon garlic powder
1/4 teaspoon cayenne pepper
2 tablespoons vegetable oil
Cooking Directions:
Combine all seasonings and oil in a small bowl; mix to blend. Spread paste mixture on both sides of each pork chop. Place pork chops in a self-sealing plastic bag or baking dish and cover. Chill for several hours or overnight in refrigerator.
Place chops on rack in broiler pan; broil 4 to 5 inches from heat for 5 to 6 minutes on each side, until brown and chops reach an internal temperature of 160°F (70°C).
Makes 6 servings.
Nutritional Information Per Serving (1/6 of recipe): Calories 170 calories Protein 18 grams Fat 10 grams Sodium 330 milligrams Cholesterol 50 milligrams Saturated Fat 2 grams Carbohydrates 2 grams.
Recipe and photograph provided courtesy of National Pork Board.