Jerk Pork Tenderloin with
Black Beans and Pineapple & Cucumber Salsa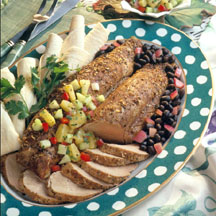 Don't let this recipe's length fool you. Especially if the Pineapple & Cucumber Salsa is made ahead, this flavorful tenderloin is very easy to fix. Serve with warm tortillas and hot rice.
Recipe Ingredients:
Jerk Seasoning:
1 tablespoon dried minced onion
1 1/2 teaspoons onion powder
2 teaspoons crushed thyme
1 teaspoon salt
1 teaspoon ground allspice
1/4 teaspoon ground nutmeg
1/4 teaspoon ground cinnamon
1 teaspoon granulated sugar
1 teaspoon black pepper
1/2 teaspoon cayenne
1 whole pork tenderloin (about 1 pound)
Black Beans and Pineapple:
2 (15-ounce) cans black beans, rinsed and drained
1 small red onion, chopped
1 tablespoon chili powder
2 teaspoons ground cumin
Vegetable oil, as needed
1/4 cup chopped cilantro
2 tablespoons lime juice
Salt, to taste
Pineapple & Cucumber Salsa:
1 (20-ounce) can pineapple tidbits
1 small cucumber, peeled, seeded and diced
2 tablespoons rice vinegar
2 tablespoons olive oil
1/8 teaspoon cayenne pepper
1 jalapeño pepper diced and seeded pepper*
1 tablespoon coarsely ground black pepper
4 tablespoons finely chopped cilantro
8 (6-inch) flour tortillas, warmed for accompaniment
Cooking Directions:
For Jerk Seasoning: In a small bowl, mix together all seasoning ingredients. Makes enough to coat one whole pork tenderloin.
Rub tenderloin with Jerk Seasoning and place in a shallow roasting pan and roast in a preheated 450°F (230°C) oven for 20 minutes, until internal temperature reads 155°F (approximately 65°C) on a meat thermometer. Remove and let rest 10 minutes before slicing to serve. Internal temperature should rise about 5 degrees Fahrenheit, to 160°F (70°C), while resting.
For Black Beans and Pineapple: In large bowl, toss together beans, onion, chili powder and cumin. Heat large skillet over medium-high heat, coat with a little oil and stir-fry bean mixture until heated through, about 3 to 4 minutes. Toss bean mixture with chopped cilantro, lime juice and salt to taste.
For Pineapple & Cucumber Salsa: In medium bowl, stir together all salsa ingredients. Cover and let rest at room temperature for an hour to let flavors blend. Refrigerate for longer storage; bring to room temperature before serving. Makes 3 cups.
Makes 4 servings.
*Use rubber gloves when handling pepper.
Nutritional Information Per Serving (1/4 of recipe): Calories 620 calories Protein 40 grams Fat 17 grams Sodium 822 milligrams Cholesterol 67 milligrams
Recipe and photograph provided courtesy of National Pork Board.