Make-It-Mine Pork Kabobs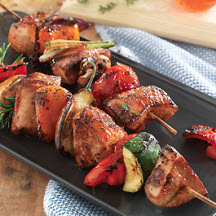 Kabob ingredients don't need to be limited to the vegetables listed. There are several ways to customize kabobs; try incorporating cherry tomatoes, broccoli (precooked until crisp-tender), pineapple chunks (fresh or canned), yellow summer squash, red onion wedges, baby carrots (precooked until crisp-tender), halved tiny new potatoes (precooked until tender) or try adding fresh sprigs of herbs.
Recipe Ingredients:
1 pound pork loin roast, boneless or tenderloin, cut into 1 1/2-inch cubes
1/4 cup soy sauce, reduced-sodium
2 tablespoons rice vinegar
1 tablespoon fresh gingerroot, grated
1 teaspoon Dijon-style mustard, or 1/2 teaspoon Chinese Five Spice
1 small red bell pepper, or orange bell pepper, cut into 1-inch squares*
6 ounces shiitake mushrooms, or white mushroom caps, halved if needed*
1 small zucchini, halved lengthwise and cut into 3/4-inch pieces*
1/4 cup pepper jelly, or orange marmalade, melted
8 skewers
Cooking Directions:
In a self-sealing plastic bag combine cubed pork, soy sauce, vinegar, ginger and Dijon mustard (or Chinese Five Spice); seal bag and refrigerate for 1 to 4 hours.
Prepare medium-hot fire with charcoal or preheat gas to medium high.
Remove pork from marinade, reserving marinade. Thread pork, sweet peppers, mushrooms, and zucchini alternately onto 8 skewers. Brush or drizzle with reserved marinade.
Grill kabobs directly over fire, turning to brown evenly, for 5 minutes. Brush kabobs with the melted jelly. Continue to grill for 3 to 10 minutes more or until tender.
Let kabobs rest 3 minutes before serving.
Makes 4 servings.
Tips:
Leave a little space between each ingredient when threading them onto the skewers. This assures even cooking.
Try this recipe with black rice. Steam it and toss with sliced green onion as a bed for these flavorful kabobs, their color will really pop atop the black rice. or, consider serving the kabobs over fluffy, quick-cooking couscous.
If using orange marmalade, add a kick of heat by stirring in a pinch of cayenne. If the weather is not ideal, broil the kabobs on a preheated broiler pan 3 to 5-inch from the heat source, using the doneness test and cook time above.
Nutritional Information Per Serving (1/4 of recipe; 2 kabobs using Chinese Five Spice variation): Calories: 200; Total Fat: 2g; Saturated Fat: 1g; Cholesterol: 75mg; Total Carbs: 18g; Protein: 26g; Sodium: 610mg.
Recipe and photograph provided courtesy of National Pork Board.