Mock Mu Shu Pork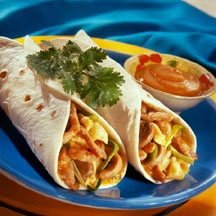 Enjoy an easy version of mu shu pork using flour tortillas. Serve with a fruit salad and almond cookies.
Recipe Ingredients:
1/2 pound boneless pork loin, sliced into thin strips
1 tablespoon cornstarch
2 tablespoons Kikkoman soy sauce
2 teaspoons minced fresh gingerroot
4 green onions
1 can (4-ounces) sliced mushrooms
Vegetable oil
4 large eggs, beaten
6-inch flour tortillas, warmed
Mandarin Peach Sauce:
1 (15-ounce) can sliced peaches, drained
3 tablespoons Kikkoman teriyaki sauce
1 tablespoon cornstarch
1 tablespoon granulated sugar
1/4 teaspoon fennel
1/4 teaspoon black pepper
1/8 teaspoon ground cloves
1/8 teaspoon garlic powder
Cooking Directions:
Coat pork with mixture of cornstarch, soy sauce and ginger. Let stand 20 minutes.
Meanwhile, cut green onions in half lengthwise, then into 1 1/2-inch lengths.
Reserving 1 tablespoon liquid, drain mushrooms.
Heat 1 teaspoon oil in wok or large skillet over medium heat. Add eggs; cook until firm on bottom. Gently lift cooked portion to allow the uncooked egg to run underneath. Continue procedure until egg is completely cooked but still moist and glossy. Remove and break into large pieces.
Heat 1 tablespoon oil in sam pan over high heat. Add pork and stir-fry 2 minutes. Add green onions and reserved mushroom liquid; stir-fry 2 minutes longer. Add mushrooms and cooked eggs; stir-fry just until heated through.
To eat, spread thin layer of Mandarin Peach Sauce over tortilla and spoon about 2 tablespoons pork mixture down center of tortilla. Wrap to enclose filling and eat out of hand.
For Mandarin Peach Sauce: Place peaches in blender container. Cover and process on high speed until smooth; pour into small saucepan.
Combine teriyaki sauce and cornstarch; stir into peaches with sugar fennel, pepper and cloves. Bring to boil over medium heat. Simmer until sauce thickens, about 2 minutes, stirring constantly. Remove from heat and stir in garlic powder. Makes 1 cup sauce.
Makes 6 servings.
Nutritional Information Per Serving (1/6 of recipe with 3 tablespoons sauce): Calories 380 calories Protein 17 grams Fat 12 grams Sodium 970 milligrams Cholesterol 157 milligrams Saturated Fat 3 grams Carbohydrates 51 grams.
Recipe and photograph provided courtesy of National Pork Board.