Pork Chops, Red Cabbage and Pears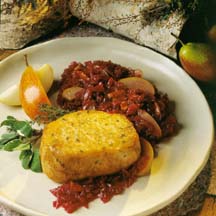 Perfect for an autumn or winter day, this skillet supper sends inviting aromas throughout the kitchen. Serve chops with cabbage and pears, and buttered rye bread.
Recipe Ingredients:
6 (1 1/2-inch-thick) boneless pork center loin chops
2 teaspoons oil
1 teaspoon salt
1/8 teaspoon black pepper
1/4 teaspoon dried sage
1/4 teaspoon dried thyme
2/3 cup water
2 slices bacon, diced
1 (10-ounce) package shredded red cabbage
1 medium onion, peeled and sliced
1/2 cup water
1/4 cup apple cider vinegar
1/4 cup brown sugar, firmly packed
2 cups sliced pears, about 2 large
Cooking Directions:
Heat oil in large nonstick skillet. Brown pork chops over medium-high heat. Season with salt, pepper, sage and thyme. Add 2/3 cup water to skillet, lower heat and cover; simmer gently 12 to 15 minutes or until pork chops are tender. Keep warm.
Meanwhile, in another large deep skillet over medium heat cook bacon until just crisp. Stir in cabbage and onions, cook and stir for 5 minutes, until limp. Add 1/2 cup water, vinegar and brown sugar, stir to mix well. Add pears, bring to a boil. Lower heat, cover and simmer 8 minutes, until very tender. Serve with chops.
Makes 6 servings.
Recipe and photograph provided courtesy of National Pork Board.