Pork Chops with Black and White Salsa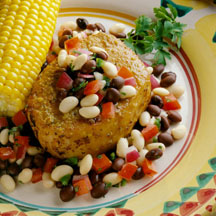 The salsa for this dish can be made ahead, even the day before. Serve with rice and fresh spinach and orange salad.
Recipe Ingredients:
Black and White Salsa:
1 (16-ounce) can black beans, drained and rinsed
1 (16-ounce) can great Northern beans, drained
1 cup diced tomatoes
1/4 cup fresh cilantro, chopped
3 tablespoons white wine vinegar
1/4 cup finely chopped red onion
2 tablespoons chopped jalapeño pepper*
2 garlic cloves, minced
1/2 teaspoon salt
1/2 teaspoon granulated sugar
1/8 teaspoon black pepper
Chops:
4 boneless pork chops, 1 1/2-inch thick
Kosher or sea salt and freshly ground black pepper to taste
1 teaspoon vegetable oil
Cooking Directions:
For Black and White Salsa: In medium bowl, toss together beans, tomatoes, cilantro, vinegar, onion, jalapeño, garlic, and seasonings. Let stand at least one hour to allow flavors to develop. Refrigerate for longer storage.
For Chops: Heat skillet over medium-high heat and brush lightly with vegetable oil. Season chops with salt and pepper and pan-broil, turning occasionally, until cooked to medium doneness, about 15 minutes total. Remove chops and serve with Black and White Salsa.
Makes 4 servings.
*Always wear rubber gloves when handling hot chiles.
Recipe and photograph provided courtesy of National Pork Board.