Pork Chops with Mushroom Sage Wine Sauce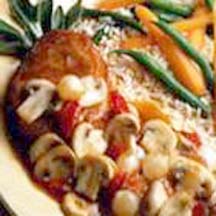 Pork chops served with a delectable sage-seasoned mushroom and wine sauce.
Recipe Ingredients:
4 center-cut pork chops, about 1 1/4 pounds
1/2 teaspoon salt - divided use
2 tablespoons olive oil
1 pound fresh white mushrooms (about 5 cups), sliced
1 cup frozen pearl onions, thawed
1/2 cup chopped roasted red peppers
2 ounces chopped sliced prosciutto
1/4 cup dry white wine
1 teaspoon minced garlic
3/4 teaspoon rubbed sage
1/8 teaspoon ground black pepper
Cooking Directions:
Sprinkle pork chops with 1/4 teaspoon of the salt, dividing evenly. In a large skillet heat oil until hot. Add pork chops; cook until golden brown on both sides, 6 to 7 minutes, turning once.
Remove to a serving plate; cover with foil; set aside.
To skillet add mushrooms, cook, stirring occasionally, until mushrooms are just golden, about 3 minutes.
Add onions, bell peppers, prosciutto, wine, garlic, sage, black pepper and the remaining salt. Cook, stirring frequently, until onions are tender, about 5 minutes.
Spoon sauce over reserved pork chops.
Makes 4 servings.
Recipe and photograph provided by The Mushroom Council.