Pork Chops with Red Onions and Fennel Seed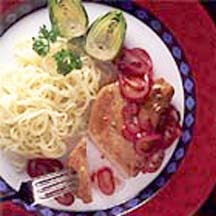 Fennel seed has a decidedly licorice flavor. Serve with Parmesan noodles and garlic bread.
Recipe Ingredients:
4 boneless pork chops, 3/4-inch thick
Olive oil
Salt, cayenne and black pepper to taste
1 tablespoon olive oil
2 large red onions, thinly sliced
2 teaspoons granulated sugar
2 teaspoons fennel seed, crushed
1/4 teaspoon crushed red pepper
3 tablespoons red wine vinegar
3 tablespoons water
Cooking Directions:
Heat a large skillet over medium-high heat. Brush chops lightly with olive oil and season on both sides with salt, cayenne and black pepper. Brown chops on each side; remove chops from pan.
Heat 1 tablespoon olive oil in the same skillet. Add onions, fennel seed and crushed red pepper. Cook over medium-high heat until onions are tender but not brown, stirring. Add the vinegar and water; cook for 1 minute more, stirring occasionally.
Return chops to skillet. Cover tightly; cook over low heat for 5 to 6 minutes or until chops are just done. Serve onion mixture with chops.
Makes 4 servings.
Recipe and photograph provided courtesy of National Pork Board.