Pork Chops with Sofrito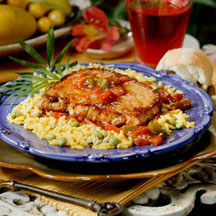 Thin chops prepared by quick-braise makes for a fast and easy dinner.
Recipe Ingredients:
8 boneless pork loin chops, 1/2-inch thick
2 tablespoons olive oil
1 cup white onion, diced
1 cup green bell pepper, diced
1 cup red bell pepper, diced
2 cloves garlic, minced
3 (8-ounce) cans Salsa de Tomate (LaPreferida or Goya brands)
1 teaspoon chili powder
Cooking Directions:
Heat olive oil in a large skillet over medium-high heat. Add pork loin chops and brown 1 to 2 minutes on each side. Remove from pan and set aside.
Reduce heat to medium. Add diced onions, peppers and garlic; cook 5 minutes until browned and softened, stirring occasionally.
Add tomato sauce and chili powder, cook 5 minutes.
Reduce heat to low and return pork loin chops to pan. Simmer 8 to10 minutes until internal temperature on a thermometer reads 160°F (70°C).
Serve over yellow rice with pigeon peas.
Makes 4 servings.
Nutritional Information Per Serving (1/8 of recipe): Calories: 216 calories; Protein: 26 grams; Fat: 9 grams; Sodium: 429 milligrams; Cholesterol: 67 milligrams; Saturated Fat: 2 grams; Carbohydrates: 11 grams; Fiber: 2 grams.
Recipe and photograph provided courtesy of National Pork Board.