Roasted Pork Tenderloin with Asian Dry Rub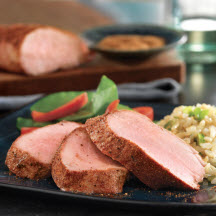 Serve slices of this flavorful pork tenderloin with brown rice tossed with thinly sliced scallions and fresh chopped cilantro. Steamed bok choy or broccoli drizzled with a tiny bit of Asian sesame oil make quick and easy side dish options.
Recipe Ingredients:
2 (1 pound) pork tenderloins, trimmed
1 tablespoon light brown sugar, packed
1 teaspoon ground ginger
1/4 teaspoon ground cinnamon
1/4 teaspoon salt
1/4 teaspoon ground black pepper
1/8 teaspoon ground cloves
1/8 teaspoon ground cayenne pepper
Cooking Directions:
Preheat oven to 425°F (220°C). Line a medium baking pan with foil.
Stir together brown sugar, ginger, cinnamon, salt, black pepper, cloves, and cayenne pepper in small bowl. Rub pork with brown sugar mixture.
Place pork in prepared pan and roast for 15-18 minutes or until the pork's internal temperature reaches 145 degrees F. Remove from oven, cover loosely with foil, and let stand for 3 minutes. Cut into slices to serve.
Makes 4 servings, plus leftovers.
Recipe and photograph provided courtesy of National Pork Board.