Sherried Pork Tenderloin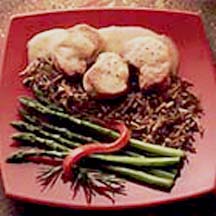 Easy elegance for weekend or weekday dining. Serve with wild rice and steamed asparagus.
Recipe Ingredients:
1 pound pork tenderloin, cut crosswise into 8 equal pieces
1/4 cup all-purpose flour
1/4 teaspoon salt
1/2 teaspoon granulated sugar
1/4 teaspoon dried rosemary leaves, crushed
1/4 teaspoon ground black pepper
1 teaspoon vegetable oil
1 cup dry sherry
1/2 teaspoon dry mustard
Roasted red pepper strips for garnish (optional)
Cooking Directions:
Press each pork tenderloin slice to 1-inch thickness.
In small bowl, combine flour, salt, sugar, rosemary and pepper; blend well. Coat both sides of pork slices with flour mixture, dredging both sides of pork slices with flour mixture, shaking off any excess flour.
Heat oil in nonstick frypan over medium heat. Add pork slices; cook 3 to 4 minutes on each side. Remove from skillet, reserving drippings. Keep warm.
Add sherry and dry mustard to reserved drippings in skillet. Bring to a boil over medium heat; stir until mixture is reduced to half. Reduce heat to low; add cooked pork slices. Simmer 1 to 2 minutes; remove from heat.
Arrange pork slices on serving plate; spoon half of sauce over slices. Pass remaining sauce. Serve garnished with roasted red peppers strips, if desired.
Makes 4 servings.
Recipe and photograph provided courtesy of National Pork Board.