Smoky Mexican Pork Stir Fry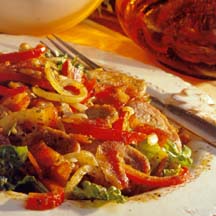 The dual smoky flavors of bacon and chipotle chile (smoked jalapeño) liven up this quick and healthful stir-fry. The contrasts in temperature and texture—a hot savory stir-fry over cool crunchy lettuce—is a treat for the palate. Serve with hominy or rice and Orange & Onion Salad.
Recipe Ingredients:
1 small pork tenderloin (about 12 ounces)
4 slices bacon, diced
1 chipotle chile (drained, if canned in adobo sauce; rehydrated in warm water if dried), chopped*
1 tablespoon vegetable oil
1 teaspoon ground cumin
1 teaspoon dried oregano
2 cloves garlic, crushed
1 red or green bell pepper, cut into thin strips
1 small onion, cut in half and thinly sliced
3 cups coarsely chopped romaine or iceberg lettuce
Cooking Directions:
Slice pork tenderloin in half lengthwise, and then cut crosswise thinly.
Toss pork, bacon and chipotle pieces together in small bowl, set aside.
Combine oil, cumin, oregano and garlic and heat in large nonstick skillet over medium-high heat. Add the bell pepper and onion, stir-fry 2 to 3 minutes or until crisp-tender. Remove and reserve.
In same skillet, stir-fry the pork, bacon and chile for 2 to 3 minutes, until pork is just done and bacon crisp.
Return the vegetables to the skillet and heat through. Serve over lettuce.
Makes 4 servings.
*Wear rubber gloves when handling hot chiles.
Recipe and photograph provided courtesy of National Pork Board.