Southwest Pork Chops with Spicy Pumpkin Sauce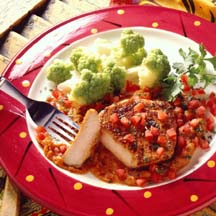 This colorful and flavorful dish gets its inspiration from the Southwest, using native squash, smoked jalapeño (chipotle) and favorite spices from the region. Serve with cornbread and green beans in a vinaigrette dressing.
Recipe Ingredients:
4 boneless pork chops, 1-inch thick
1 cup canned pumpkin puree
1 chipotle chile in adobo sauce
1 (8-ounce) jar salsa (1 cup)
1/4 cup freshly grated Parmesan cheese
1/4 teaspoon ground nutmeg
2 tablespoons brown sugar, packed
1 teaspoon ground cumin
1 teaspoon chili powder
1/2 teaspoon salt
1/4 teaspoon black pepper
1 teaspoon olive oil
2 plum tomatoes, diced
2 tablespoons chopped fresh cilantro
Cooking Directions:
In medium saucepan combine pumpkin, chipotle, salsa, cheese and nutmeg. Cook over medium heat, stirring, until mixture almost boils. Reduce heat to low; simmer 10 minutes, stirring occasionally.
In small bowl stir together brown sugar, cumin, chili powder, salt, pepper; sprinkle evenly over pork chops. Heat oil in a nonstick skillet over medium-high heat. Add pork chops; cook 8 to 10 minutes, until nicely browned on both sides.
To serve spoon about 1/3 cup pumpkin mixture over bottom of four plates; top with pork chops. Garnish with tomatoes and cilantro.
Makes 4 servings.
Recipe and photograph provided courtesy of National Pork Board.