Spicy-Hot Pork Chops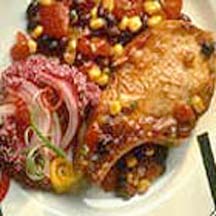 This dish is as easy as opening the cupboard. Control the heat for your family by adjusting the hot sauce. Serve with fresh pineapple wedges and warmed tortillas.
Recipe Ingredients:
4 bone-in pork chops, 3/4-inch thick
1 (15-ounce) can black beans, rinsed and drained
1 (10-ounce) can diced tomatoes and green chiles, undrained
1 (8.75-ounce) can whole kernel corn, drained
2 tablespoons chopped fresh cilantro
2 teaspoons minced garlic
1 teaspoon ground cumin
1/2 to 1 teaspoon crushed red pepper
1/2 teaspoon hot pepper sauce
Vegetable oil
3/4 cup chopped onion
Cooking Directions:
In a medium bowl combine black beans, tomatoes and green chiles, corn, cilantro, garlic, cumin, red pepper and hot pepper sauce. Set aside.
Heat a large skillet over medium-high heat. Brush chops lightly with oil and brown on each side; remove from pan.
Add onion to skillet. Cook, stirring often, until onion is tender but not brown.
Stir in bean mixture; bring to boiling. Return chops to skillet. Cover tightly; cook over low heat for 5 to 6 minutes or until chops are just done. Serve bean mixture with chops.
Makes 4 servings.
Recipe and photograph provided courtesy of National Pork Board.