Spicy Cured Pork Loin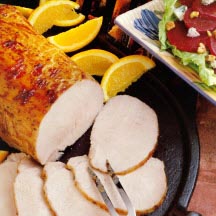 An easy brining recipe to get started on brining. A brine—a solution of flavors suspended with salt or sugar—forces flavor and moisture into meat.
Recipe Ingredients:
Brine:
2 quarts water
1/2 cup granulated sugar
1/4 cup kosher salt
3 tablespoons fennel seed, coarsely crushed
2 tablespoons thyme
2 tablespoons black peppercorns
1 teaspoon crushed red pepper flakes
2 tablespoons orange zest
1 (3 to 4-pound) boneless pork loin roast
Wood chips for fire, soaked in water for 1 hour
Cooking Directions:
For Brine: Bring all to a boil in large saucepan; let cool.
Place pork loin in very large plastic bag in a large rectangular pan; pour cooled brine over and seal bag; place pan in refrigerator for 3 days and turn bag occasionally.
Build a medium-hot fire in covered kettle-style grill and bank the coals.
Remove pork from brine, discarding liquid but setting aside the seasonings.
Add wood chips to fire, along with the reserved seasonings.
Place pork on grill and cook over indirect heat, about 15 to 20 minutes per pound, until internal temperature measured with a meat thermometer registers 150ºF to 155ºF (approxiately 65ºC).
Remove from grill, let rest 10 minutes to allow meat temperature to rise to 160ºF (70ºC).
Slice thinly to serve.
Makes 6 servings.
Recipe and photograph provided courtesy of National Pork Board.