Tropical Stir-Fried Pork Tenderloin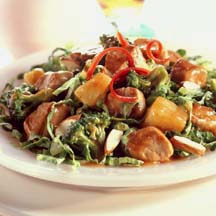 When preparing this meal, make a little extra and enjoy leftovers for the next day's lunch.
Recipe Ingredients:
1 pork tenderloin, 3/4 to 1 pound, cut into 1/2-inch cubes
1 (20-ounce) can pineapple chunks in juice
2 tablespoons reduced-sodium soy sauce
1 tablespoon cornstarch
1/8 teaspoon cayenne (ground red pepper )
1 tablespoon vegetable oil
2 cups fresh broccoli flowerets
4 cups thinly sliced romaine lettuce leaves
1/3 cup slivered almonds
Cooking Directions:
Drain pineapple, reserving juice. Combine juice, soy sauce, cornstarch and cayenne; set aside.
Heat oil in large skillet over high heat. Stir-fry broccoli 1 to 2 minutes.
Add pork tenderloin; stir-fry 5 to 6 minutes, until pork is just done.
Push mixture from center of skillet. Stir juice mixture to blend well; add to center of skillet; cook and stir until thickened and bubbly.
Add pineapple; cook and stir 1 to 2 minutes, until heated through.
Serve on bed of lettuce, garnished with almonds.
Makes 4 servings.
Recipe and photograph provided courtesy of National Pork Board.