Chilean Navel Orange and Radish Salad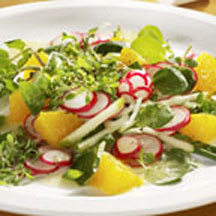 Fresh navel oranges are a terrific addition to healthful salads.
Recipe Ingredients:
3 Chilean navel oranges, peeled
4 cups mixed baby greens (about 5 ounces)
1 small green apple, cut into matchsticks (about 1 1/2 cups)
3/4 cup thinly sliced radishes (about 4 radishes)
2 tablespoons thinly sliced green onion
1 tablespoon rice vinegar
1 1/2 teaspoon Dijon mustard
1 1/2 teaspoon honey
1/8 teaspoon salt
Pinch of ground black pepper
Cooking Directions:
Into large bowl, cut oranges into segments, reserving membranes. Add greens, apple, radishes and green onion; toss gently.
In small bowl, squeeze two tablespoons orange juice from membranes; stir in vinegar, mustard, honey, salt and black pepper.
Divide orange salad mixture equally among four salad plates; top with dressing.
Makes 4 servings.
Recipe and photograph provided courtesy of ARA Content.