Chili Corn Crunch Salad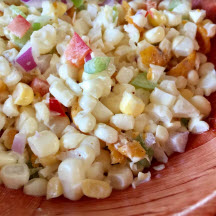 Surprisingly good and easy, the chili cheese corn chips provide all the seasoning needed. This is a great salad year-round, but exceptionally good when corn on the cob is in season and the fresh kernels are used instead of the frozen.
Recipe Ingredients:
3 (10-ounce) packages frozen white or yellow corn niblets*
1/2 cup diced red onion**
1/2 cup diced green bell pepper
1/2 cup diced red or orange bell pepper
2/3 cup mayonnaise
1 (9.7-ounce) bag chili cheese flavored corn chips, coarsely crushed
Cooking Directions:
Place frozen corn in a colander and run cold water over to thaw. Set aside to drain well.
Meanwhile prepare onion and peppers.
In a large bowl, stir together the drained corn, onion, peppers with the mayonnaise. (At this point chill salad until ready to serve or proceed with the next step.)
Add the crushed corn chips to corn salad mixture and gently stir to combine. Serve immediately.
Makes 16 servings.
* Or, for best taste and texture, use 6 to 8 ears fresh corn on the cob when in season. Use the kernels raw, do not cook. To remove kernels from the cob stand it on end in the center of a large bowl; hold the cob firmly on the top end and carefully slice downwards with a sharp knife to remove the kernels off the cob. If you've never done this, you'll be surprised at how easy this is to do.
** One of my favorite tips for raw onions. First soak the chopped onion in ice-cold water for about 15 minutes and then drain well prior to adding to the salad. The process removes that particularly undesirable taste in raw onion.
Nutritional Information Per Serving (1/16 of recipe): 172.3 calories; 44% calories from fat; 8.9g total fat; 2.5mg cholesterol; 193.3mg sodium; 168.3mg potassium; 23.3g carbohydrates; 1.5g fiber; 0.9g sugar; 21.7g net carbs; 3.0g protein.
Photograph and recipe by Hope Cantil; copyright © 1999; property of CooksRecipes.com. See Terms of Use.