Frog's Eye Salad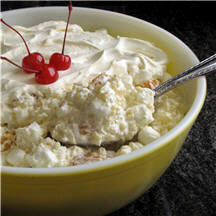 This old time favorite is delicious as a salad or dessert. The recipe uses a tiny round pasta called Acine di' Pepe (like orzo, but round) which gives it an interesting texture similar to tapioca. This fruity pasta salad is reminiscent of a creamy, fruited rice pudding, especially when individual servings are dusted with a bit of ground cinnamon.
Recipe Ingredients:
1/2 cup granulated sugar
1 tablespoon all-purpose flour
1/4 teaspoon kosher or sea salt
1 (8-ounce) can crushed pineapple, undrained
1 (20-ounce) can pineapple chunks or tidbits in its own juice, undrained
2 (11-ounce) cans mandarin orange segments, drained
1 large egg, lightly beaten
2 teaspoons lemon juice
8 ounces (or about 1 1/3 cups) Acine di Pepe Pasta, uncooked
1 (8-ounce) container frozen non-dairy whipped topping, thawed - divided use (3 1/2 cups)
3 cups miniature marshmallows
1/2 cup flaked sweetened coconut
Maraschino cherries for garnish (optional)
Cooking Directions:
In medium saucepan, stir together sugar, flour and salt.
Drain pineapple chunks, reserving juice to equal 1 cup.
Gradually stir the 1 cup pineapple juice and beaten egg into sugar mixture. Cook over medium heat, stirring constantly, until mixture comes to a boil. Remove from heat and stir in lemon juice. Cool mixture to room temperature.
Meanwhile, cook pasta according to package directions; drain. Rinse with cold water to cool quickly; set aside to drain well.
In a large bowl, stir together the pineapple juice mixture and cooked pasta. Cover and refrigerate until well chilled, about an hour. (Or overnight and finish putting salad together the next day.)
Once pasta mixture is well-chilled, stir in crushed pineapple, 2 cups whipped topping, marshmallows and coconut until combined. Gently fold in pineapple chunks and mandarin oranges just until combined, being careful not to break up the oranges. Top with remaining whipped topping; cover and refrigerate until ready to serve.
Garnish with cherries just before serving, if desired.
Makes 12 to 16 servings.
Recipe and photograph by Hope Pryor; copyright © 1999; property of CooksRecipes.com. See Terms of Use.