Indonesian Chicken and Rice Salad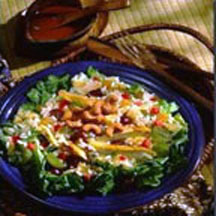 Strips of chicken breast, baked in curried yogurt, are tossed with rice, green onions, red bell pepper, grapes and golden raisins in a peanut-raspberry dressing, and served on a bed of escarole with a garnish of honey-roasted cashews.
Recipe Ingredients:
1 pound boneless skinless chicken breast, halves
1/2 cup plain yogurt
1/2 teaspoon curry powder
3 cups torn escarole leaves
2 cups cooked rice
1/2 cup sliced green onions
1/2 small red bell pepper, chopped
1 cup red and green seedless grapes, halved
1 (8-ounce) can crushed pineapple, drained
1/2 cup seedless golden raisins
1/3 cup Thai peanut dressing and sauce
1/4 cup raspberry vinaigrette
1/4 cup honey-roasted cashews
Cooking Directions:
Preheat oven to 350°F (175°C).
Spray a metal rack with nonstick coating spray and place on a foil-lined baking sheet.
Arrange chicken breasts on rack.
Combine yogurt and curry powder. Spread half of yogurt mixture over chicken. Cover and refrigerate remaining yogurt mixture.
Bake chicken at 350°F (175°C) for 15 minutes. Turn chicken over and spread with reserved yogurt mixture. Bake for 10 to 15 minutes more or until no longer pink in center.
Cut chicken into strips.
Divide escarole evenly among four salad plates.
Combine rice, onions, red pepper, grapes, pineapple and chicken. Arrange one-fourth of mixture on each plate. Sprinkle with cashews.
Combine Thai peanut dressing and raspberry vinaigrette. Serve with salad.
Makes 4 servings.
Recipe and photograph provided courtesy of The Association For Dressings and Sauces.