Prosciutto-Wrapped Figs with Blue Cheese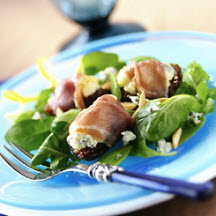 An elegant first course of blue cheese-stuffed fresh figs, wrapped in prosciutto, baked just until the prosciutto is slightly crisp, served on a bed of arugula tossed with a simple lemon and olive oil vinaigrette, and garnished with slivered toasted almonds. Recipe by Chef Michael Symon.
Recipe Ingredients:
18 fresh figs, cut in half
1 cup (6 ounces) blue cheese, softened
18 slices prosciutto ham, cut 1/16-inch thick by 2 inches wide
1 1/2 cups arugula leaves
1/3 cup extra-virgin olive oil
Juice of 1 lemon
1/2 cup slivered almonds, toasted
Cooking Directions:
Preheat the oven to 500°F (260°).
Scoop a small amount out of the center of each fig half and fill equally with the blue cheese. Put the halves back together and wrap each fig with prosciutto. Bake until the prosciutto begins to crisp, about 4 minutes. Remove from the oven and set aside.
Whisk together the lemon juice and olive oil and toss with the arugula. Place three warm figs on each plate. Place 1/4 cup of arugula in the center. Sprinkle with the almonds and serve.
Makes 6 servings.
Recipe and photograph courtesy of Wisconsin Milk Marketing Board, Inc.