Red Curried Indonesian Salad
with a Roasted Cashew-Oriental Dressing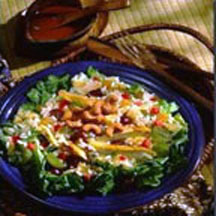 Take your family on a dining trip to Indonesia with this complex curred rice and chicken salad with a roasted cashew dressing.
Recipe Ingredients:
Mixed Rice:
1 onion, coarsely chopped
1 cup sweet red pepper, coarsely chopped
1 cup lychees, coarsely chopped
1/4 cup lemon grass, finely chopped
1/4 cup pineapple, coarsely chopped
1 cup roasted cashew pieces
3 cups Basmati rice, cooked
Chicken:
1 pound boneless chicken breasts
1 cup yogurt, plain, low-fat and blended with red curry paste (see next ingredient)
1/4 cup red curry paste
1 cup Oriental dressing and marinade
1 cup hot Thai peanut dressing & sauce
6 cups each escarole and endive, torn
1 cup green onion, chopped
2 pounds seedless green and red grapes, halved
2/3 cup muscat raisins
1 cup honey-roasted cashews
Cooking Directions:
Mix first seven ingredients to create "mixed rice" salad-base.
Julienne chicken, marinate with half the curried yogurt for at least two hours, refrigerated.
Roast chicken at 350°F (175°C) until done (approximately 20 minutes). Allow to cool, toss with remaining yogurt.
Blend the Oriental and Hot Thai peanut dressings in blender or food processor until smooth and combined. Toss in a large bowl with escarole, endives and green onions.
Arrange "mixed rice" as a border on plate. Place mixed greens in center plate. Top with chicken, grapes, raisins and honey-roasted cashews.
Makes 12 servings.
Tip: For a simplified version of this recipe, see Indonesian Chicken and Rice Salad.
Recipe and photograph provided courtesy of The Association For Dressings and Sauces.