Southwestern Rice Salad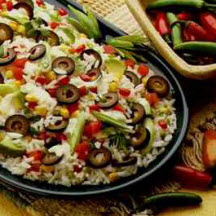 Recipe courtesy of California Ripe Olives.
Recipe Ingredients:
Dressing:
1 cup olive oil
1 cup sour cream
1/4 cup lime juice
1 1/2 teaspoons salt
1 teaspoon ground cumin
1 teaspoon granulated sugar
1/4 teaspoon cayenne
Salad:
7 cups cooked, long grain rice
2 cups olives, wedges
1 1/2 cups corn kernels
1 1/2 cups finely diced red bell pepper
1 1/2 cups seeded and diced tomatoes
4 to 6 sliced green onions
2 avocados, diced
2 tablespoons finely diced hot jalapeño chiles, canned or fresh
1/3 cup finely chopped fresh cilantro
Cooking Directions:
For Dressing: Prepare dressing by combining oil, sour cream, lime juice, salt, cumin, sugar, and cayenne.
For Salad: Mix rice with dressing.
Gently mix in remaining ingredients.
Adjust flavors to taste.
Makes 12 servings; 3 quarts.
Recipe and photograph courtesy of California Ripe Olives.