Stacked Salad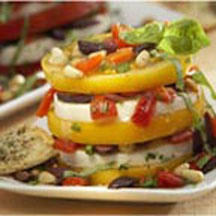 This picturesque salad is at its best when garden, vine-ripened tomatoes are used.
Recipe Ingredients:
1/4 cup pine nuts
4 large ripe tomatoes
2 large roasted red peppers, packed in water, cut into 1/2-inch pieces
1/2 cup pitted kalamata olives, slivered
10 large fresh basil leaves, chopped
1/4 cup coarsely chopped fresh parsley
1 cup T. Marzetti Lite Balsamic Dressing - divided use
8 mozzarella slices
1 package toasted pita chips
Cooking Directions:
Toast pine nuts in 350ºF (175ºC) oven for 5 to 7 minutes. Cool.
Slice top and bottom off each tomato and save for another use or discard. Cut each tomato into three slices. Transfer to plates.
In a bowl, combine peppers, olives, basil and parsley; toss with 1/4 cup lite balsamic dressing.
Layer each tomato with a mozzarella slice. Evenly distribute mixture in between each layer of tomato and on top. Sprinkle with pine nuts and drizzle with remaining lite balsamic dressing.
Serve with pita chips.
Makes 4 servings.
Recipe and photograph provided courtesy of T. Marzetti Company, member of The Association For Dressings and Sauces.