Dijon Turkey Burgers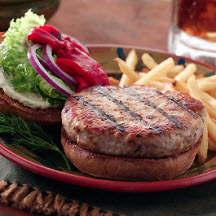 Recipe kindly provided by Chef Donna Crivello of Donna's Café in Baltimore, Maryland.
Recipe Ingredients:
Dill Dijon Mayonnaise:
1/2 cup mayonnaise
2 teaspoons mustard
2 teaspoons fresh dill, minced
1/2 teaspoon freshly squeezed lemon juice
Turkey Burger:
1 1/2 pounds ground turkey
1/2 cup freshly grated Romano cheese
1/2 cup fresh bread crumbs
1 tablespoon Dijon mustard
1 teaspoon Tabasco
1 teaspoon Worcestershire sauce
1 large clove fresh garlic, minced
1 1/2 teaspoons chopped fresh thyme
Salt and freshly ground black pepper, as needed
4 multi-grain rolls, split and lightly toasted
Optional Accompaniments:
Green leaf lettuce, washed, drained and chilled
Roasted red peppers
Sliced red onion rings
Cooking Directions:
For Dill Dijon Mayonnaise: Mix mayonnaise, mustard, fresh dill and lemon juice. Cover and chill in refrigerator.
For Turkey Burgers: Place all ingredients in a medium sized bowl and mix lightly to incorporate all ingredients.
Shape into 6 ounces patties, about 1-inch thick.
Oil grill rack and preheat grill to medium-high.
Add burgers to hot grill and cook on one side for about 5 minutes, flip and cook on the other side for about 4 minutes more on medium-high.
Transfer to a cooler part of the grill and continue to cook a bit longer, until cooked to 165°F (73.8°C), about 5 more minutes.
For Assembly: Spread Dill Dijon Mayonnaise on lightly toasted rolls. Place turkey burgers on rolls and garnish each burger with lettuce, onions and roasted red peppers.
Makes 4 servings.
Recipe and photograph courtesy of National Turkey Federation.