Slow-Cooker
Sweet and Smokey Barbecue Pulled Pork Sandwiches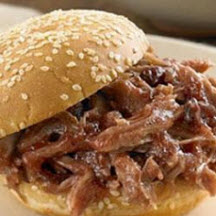 These sandwiches are sure to become a family favorite, as well as a great choice for party food perfect for just about any occasion.
Recipe Ingredients:
1 tablespoon vegetable oil
1 (3 1/2-pound) boneless pork shoulder roast
1 teaspoon salt
1/2 teaspoon ground black pepper
1 cup chopped onion
1 (16-ounce) can Ocean Spray® Jellied Cranberry Sauce
1 (12-ounce) bottle Heinz® Chili Sauce
2 tablespoons minced chipotle peppers in adobo sauce or 1 teaspoon cayenne pepper
12 to 16 hamburger buns, split and toasted
Cooking Directions:
Heat oil in large skillet over medium-high heat. Sprinkle pork with salt and black pepper. Add pork to skillet. Cook for 6 to 8 minutes or until browned on both sides. Place pork and onion in 4 to 5-quart slow cooker.
Cover and cook on low for 7 to 9 hours or until pork is tender. Remove pork and onion with slotted spoon; place on plate, reserving 1 cup liquid. Discard remaining liquid. Return reserved liquid, cranberry sauce, chili sauce and chipotle peppers to slow cooker. Stir to combine.
Shred pork; stir shredded pork and onion into sauce in slow cooker. Cover and cook on low for 15 to 20 minutes or until heated through.
Divide pork mixture evenly among toasted buns.
Makes 12 to 16 sandwiches.
Recipe and photograph provided courtesy of ©H.J. Heinz Company, L.P. 2008. All rights reserved; ©2008 Ocean Spray Cranberries, Inc. All rights Reserved, through ECES, Inc., Electronic Color Editorial Services.