Ahi Tuna Medallions with Raisin Medley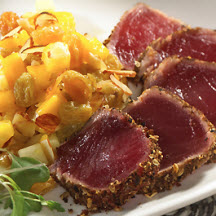 Recipe courtesy of California Raisin Marketing Board.
Recipe Ingredients:
Raisin Medley:
3/4 cup California golden raisins
3/4 cup California natural raisins
3/4 cup vodka or white grape juice
1 whole mango, small dice
1/2 whole pineapple, small dice
1 Granny Smith apple, small dice
1/2 tablespoon minced fresh gingerroot
Salt and ground black pepper to taste
1/2 cup sliced almonds, toasted
Tuna:
1 1/2 pounds fresh ahi tuna
1 tablespoon whole pink Szechuan peppercorns
1 tablespoon whole green Szechuan peppercorns
Sprigs of watercress; for garnish
Cooking Directions:
Soak raisins in vodka until plumped.
Combine mango, pineapple, apple and fresh gingerroot in small bowl; mix well and season with salt and pepper. Chill.
Divide and trim tuna to make 2 rectangular strips. Heat small sauté pan until smoking and toast peppercorns lightly; and spread evenly on small cookie sheet.
Dredge tuna pieces in pepper to coat on all sides. Return tuna to hot smoking sauté pan and sear, about 30 seconds on each side. Let stand in refrigerator till ready to serve.
Cut each tuna piece, crosswise, into 9 equal slices. Arrange 3 slices on each of 6 individual serving plates.
Drain raisins and stir into fruit mixture along with almonds. Divide and spoon onto plates; garnish with watercress.
Makes 6 servings.
Nutritional Information Per Serving (1/6 of recipe): Calories: 410; Total Fat: 6g; Saturated Fat: 1g; Cholesterol: 50mg; Total Carbs: 46g; Fiber: 5g; Sugar: 28g; Protein: 30g; Sodium: 50mg.
Recipe and photograph courtesy of California Raisin Marketing Board.