Citrus Shrimp with Angel Hair Pasta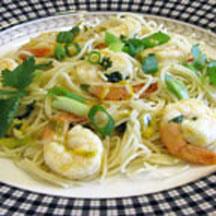 This delectable shrimp dish, with its intense citrus-flavor and just a hint of spice typical of Gulf coast cuisine, is quick and easy to prepare, making it ideal fare for either serving your family on a weeknight, or for entertaining dinner guests without the muss and fuss—and with a taste and presentation that is sure to impress!
Recipe Ingredients:
9 ounces angel hair pasta*
1 fresh lime (about 2 tablespoons)
1 fresh lemon (about 2 to 3 tablespoons)
2 fresh oranges (about 1 cup)
6 tablespoons butter
1/4 cup sliced green onions**
2 cloves garlic, finely minced
1/4 teaspoon ground cumin
1/4 teaspoon Tabasco sauce
1 (16-ounce) package medium-sized frozen fully-cooked shrimp***
1/4 cup coarsely chopped fresh cilantro, leaves only
Kosher or sea salt and freshly ground black pepper to taste
Sliced green onions for garnish (optional)
Sprigs of cilantro for garnish (optional)
Freshly grated Parmesan cheese for accompaniment (optional)
Cooking Directions:
Cook the pasta according to package directions: set aside.
Remove some of the zest off the lime, lemon and orange using citrus zester or fine grater, about 1 tablespoon total; set aside.
Juice the lime, lemon and oranges; set aside.
Place frozen shrimp in a colander and run cold water over them until thawed, drain well and pat dry with paper towels; set aside.
Melt 2 tablespoons butter in a large skillet; add green onions, garlic, cumin and Tabasco sauce. Cook over medium-high heat, stirring constantly, for 1 minute.
Add reserved citrus juices to same skillet and increase the heat. Cook until mixture is reduced by about half, about 4 to 5 minutes.
Add the shrimp and cook just until heated through.
Remove from heat and stir in the remaining butter 1 tablespoon at a time (this creates a creamier sauce).
Stir in the reserved citrus zest and cilantro. Season to taste with salt and pepper.
Add the hot cooked angel hair pasta and toss to combine.
Serve garnished with a sprinkling of sliced green onions and Parmesan cheese, if desired.
Makes 6 servings.
*Thin spaghetti, linguine or fettuccine can be substituted for the angel hair pasta.
**Or use 1/4 cup coarsely chopped white or red onion.
***1 pound raw, peeled and deveined shrimp can be used, cook raw shrimp with the green onions just until they turn pink, about 2 to 3 minutes and remove from skillet. Return shrimp to skillet with the citrus zest and cilantro at the end of preparation.
Tips:
You can also substitute the garlic and green onions with chopped shallots for a more subtle flavor.
Don't fuss too much about the amount of juice you get from the fresh citrus, a little more or a little less won't make too much difference.
Nutritional Information Per Serving (1/6 of recipe): 370.8 calories; 31% calories from fat; 13.2g total fat; 168.7mg cholesterol; 248.0mg sodium; 351.8mg potassium; 42.1g carbohydrates; 3.7g fiber; 0.5g sugar; 38.5g net carbs; 21.3g protein.
Recipe and photograph by Hope Cantil; Copyright © 1999; property of CooksRecipes.com. See Terms of Use.