Smoky Salmon Pizza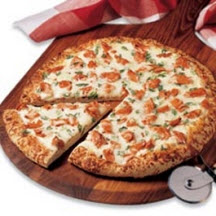 This delectable pizza is a snap to make thanks to canned salmon and a ready-to-use pizza crust—and with toppings like cream cheese, thinly sliced red onion, red pepper flakes and smoked cheese, this pizza is an all-around winner.
Recipe Ingredients:
1 (7.5-ounce) can Alaska salmon, drained and flaked
1 (12-inch) prepared pizza crust or Italian bread shell
1 (3-ounce) package cream cheese, softened
1/2 cup thinly sliced red onion or chopped green onion*
1/2 teaspoon crushed red pepper flakes
1 1/2 to 2 cups shredded smoked cheese, such as cheddar, Swiss, mozzarella or Gouda
Cooking Directions:
Preheat oven to 400°F (205°C).
Place pizza crust on cookie sheet, coat lightly with spray. Spread cream cheese over crust. Add salmon, vegetables, red pepper flakes and cheese.
Bake 10 to 12 minutes until cheese is melted.
Makes 6 servings.
*1 cup of broccoli florets, microwaved for 1 minute, can be substituted for onions.
Recipe and photograph courtesy of Alaska Seafood Marketing Institute.