Forbidden Rice with Cranberries and Pine Nuts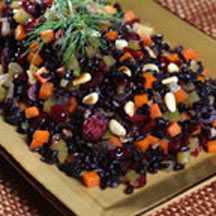 Forbidden rice-black grain rice once cultivated for the sole use of the emperors of China-is classified as sweet and neutral. The combination of celery to help clear fluid retention, as well as vitamin-rich carrots and orange juice, is believed to help combat colds. Compliments of chef Ying Chang Compestine.
Recipe Ingredients:
3 tablespoons olive oil
2 tablespoons finely chopped fresh ginger
1 cup diced fresh shiitake mushrooms
3 medium carrots, cut into 1/4-inch cubes (about 1 1/2 cups)
1/2 cup finely chopped onion
2 stalks celery, cut into 1/4-inch cubes
2 tablespoons MAGGI TASTE OF ASIA Cooking Soy Sauce
3 cups cooked Forbidden Rice
1 cup fresh orange juice
1 cup dried cranberries
2 tablespoons MAGGI TASTE OF ASIA Sweet Chili Sauce
2 teaspoons MAGGI Seasoning Sauce
2 tablespoons chopped fresh dill
1/2 cup toasted pine nuts
Cooking Directions:
Preheat oven to 325°F (160°C).
Heat oil in large wok or skillet over medium-high heat. Add ginger; cook, stirring constantly, for about 30 seconds or until fragrant. Add mushrooms; cook, stirring occasionally, for 1 minute. Add carrots, onion, celery and soy sauce. Cook, stirring occasionally, for about 1 minute or until vegetables are tender.
Stir in rice, orange juice, cranberries and sweet chili sauce. Toss to mix well. Season to taste with seasoning sauce. Pour rice mixture into 13x9x2-inch baking dish; cover with foil.
Bake for 30 minutes or until heated through and liquid is evaporated. Garnish with dill and pine nuts before serving.
Makes 8 servings.
Nutritional Information Per Serving (1/8 of recipe): Calories: 280 Calories from Fat: 110 Total Fat: 12 g Saturated Fat: 1 g Cholesterol: 0 mg Sodium: 450 mg Carbohydrates: 42 g Dietary Fiber: 3 g Sugars: 17 g Protein: 4 g.
Recipe and photograph are the property of Nestlé® and Meals.com, used with permission.