Honduran Chayotes in Creamy Green Onion Sauce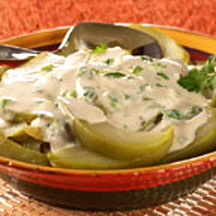 Honduran Chayotes in Creamy Green Onion Sauce is a flavorful side dish or vegetarian main entrée.
Chayote is actually a fruit, but for culinary purposes it is often handled like a squash or a gourd. The traditional Honduran chayote variety has irregular shapes, colors and small spines. Producers brought the smooth variety from Costa Rica to Honduras. The white sauce is made with Honduran sour cream. Central American dairies make a wonderful thin sweet/sour cream, crema, which has different names wherever you go. In Honduras, it is called mantequilla blanca (white butter) or mantequilla crema. Honduran sour cream is not widely available in the U.S. If you can't find it, try it with your favorite squash for equally delicious results. The versatile sauce may also be served over your favorite cooked vegetables or other recipes that call for white sauce.
Recipe Ingredients:
3 large or 4 medium chayotes, cut in halves
1/2 teaspoon salt
1/4 cup all-purpose flour
1 (12-ounce) can NESTLÉ® CARNATION® Evaporated Milk - divided use
1 cup chicken broth or water
1/2 cup Honduran crema, 1/2 cup NESTLÉ Media Crema or 1/2 cup sour cream mixed with 2 tablespoons heavy whipping cream
3 green onions, sliced
2 tablespoons chopped fresh parsley
1/4 teaspoon salt or more to taste
1/4 teaspoon ground black pepper or more to taste
Cooking Directions:
Place chayotes in large saucepan; cover with water. Add 1/2 teaspoon salt. Bring to a boil over high heat. Reduce heat to medium; cook until tender when pierced, about 40 to 45 minutes.
Meanwhile, after 20 minutes of cooking chayotes, combine flour and 1/2 cup evaporated milk with wire whisk in small bowl until smooth. Warm remaining evaporated milk and broth in small saucepan over medium heat. Gradually stir in flour mixture. Cook, stirring constantly, until sauce comes to a boil and thickens slightly. Reduce heat to low; cook, stirring constantly, for 2 minutes. Remove from heat. Stir in crema, green onions, parsley. Season with salt and pepper, adding more to taste.
Drain the chayotes; place on cutting board and remove seeds. Carefully cut into 1/4-inch slices. Place in serving bowl. Pour sauce over sliced chayotes; serve immediately.
Makes 12 side dish servings.
Nutritional Information Per Serving (1/12 of recipe): Calories: 100 Calories from Fat: 45 Total Fat: 5 g Saturated Fat: 3 g Cholesterol: 10 mg Sodium: 230 mg Carbohydrates: 7 g Dietary Fiber: 1 g Sugars: 2 g Protein: 4 g.
Recipe and photograph are the property of Nestlé® and Meals.com, used with permission.