Idaho Potato Risotto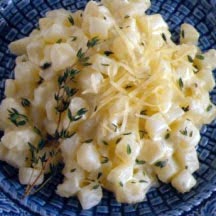 This delicious potato 'risotto' recipe was created by Jennifer Jasinski Chef-owner of Rioja, Denver.
Recipe Ingredients:
Potato Risotto:
2 pounds Idaho® potatoes, peeled and cut into 1/4-inch dice
6 ounces celery root, peeled and cut into 1/4-inch dice
6 tablespoons melted butter
Salt to taste
Pepper to taste
6 ounces French green beans (haricot vert), trimmed and cut into 1/4-inch pieces
2 cups heavy cream
2 tablespoons fresh thyme, chopped
1/2 cup freshly grated Parmesan cheese
Sun Dried Tomato Oil:
1 cup olive oil blend
1/4 cup tomato paste
1/2 cup sun dried tomatoes
6 cloves garlic
1 stem of basil
Cooking Directions:
Preheat oven to 350°F (175°C).
For Potato Risotto: To par-cook the potatoes, toss them in two-thirds of the melted butter and transfer to a sheet tray. Season with salt and pepper and cook until almost cooked through, but still a little firm, about 20 to 25 minutes.
Toss celery root in remaining butter, season, and cook in the same manner as the potatoes, for 15 to 20 minutes.
Blanch green beans in salted boiling water for 1 to 2 minutes, then shock in ice water. Drain and set aside.
When ready to finish dish, add potatoes to a saucepan or enameled cast-iron Dutch oven. Add cream, thyme and additional salt and pepper. Using a wooden spoon, stir constantly over medium heat until cream begins to thicken, about 4 to 5 minutes.
Add celery root and green beans, cooking another 1 to 2 minutes. Stir in cheese and adjust seasoning.
Serve immediately with a drizzle of Sun-Dried Tomato Oil.
For Sun Dried Tomato Oil: For oil garnish, add all ingredients to a small sauce pan, whisking continuously over low heat. When the oil starts to bubble, remove from heat and allow oil to sit overnight. Strain the next day, discarding solids. Keep refrigerated after straining.
Makes 6 servings.
Tip: If risotto sits on the stove and gets a little too thick you can add a touch of chicken stock, but if you serve immediately this step should be unnecessary.
Recipe and photograph provided courtesy of Idaho Potato Commission.