Mexican Rice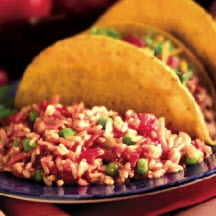 A 'side of Mexico' that is sure to enhance any Mexican meal.
Recipe Ingredients:
2 tablespoons butter or margarine
1 cup long-grain white rice
1/2 cup chopped onion
2 cloves garlic, finely chopped
1 (16-ounce) jar ORTEGA Salsa - Thick & Chunky (Medium)
1 1/4 cups water
1 large carrot, peeled and shredded
1/2 cup frozen peas, thawed (optional)
Cooking Directions:
Melt butter in large saucepan over medium heat. Add rice, onion and garlic; cook, stirring occasionally, for 3 to 4 minutes or until rice is golden.
Stir in salsa, water, carrot and peas. Bring to a boil. Reduce heat to low; cook, covered, for 20 minutes or until liquid is absorbed and rice is tender.
Makes 8 servings.
Tip: For a quick-cook Mexican Rice, use 4 cups instant rice instead of 1 cup long-grain white rice, and 2 1/2 cups water instead of 1 1/4 cups water. After salsa mixture comes to a boil, cook for length of time recommended on instant rice package.
Recipe and photograph provided courtesy of Ortega and B&G Foods, Inc.