Mexican Rice with Salsa and Cheese
(Arroz Con Salsa Y Quesos)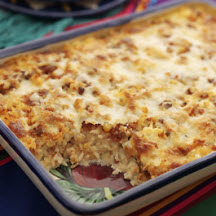 This creamy, three-cheese rice casserole has just the right kick of spicy heat and is perfect for serving as a hearty side dish, or a meatless entrée.
Recipe Ingredients:
3 cups vegetable broth
1 jalapeño chile
1 1/2 cups long grain white rice
1 cup whipping cream
3/4 cup half-and-half (light cream)
1/2 cup sour cream
1 cup shredded Wisconsin Queso Quesadilla (or Oaxaca, or Muenster) cheese
1 cup shredded Wisconsin Mozzarella cheese
1 cup shredded Wisconsin Fresh mozzarella cheese
1 (16-ounce) jar fire-roasted chunky tomato-style salsa
Cooking Directions:
Bring the vegetable broth and the whole jalapeño chile to a boil in 2-quart saucepan; stir in the rice, cover, reduce heat and simmer for 20 minutes, without lifting the lid. Remove from heat, fluff with fork and spread on a cookie sheet so the grains don't stick together and cool.
Preheat oven to 400°F (205°C).
Combine the creams in a bowl.
In large, greased 13x9x2-inch rectangular or oval baking dish, layer one-half the rice, salsa, cheeses and cream in that order. Repeat. Don't over fill dish.
Bake for 40 to 45 minutes. Serve immediately.
Makes 8 servings.
Adapted recipe and photograph courtesy of Wisconsin Milk Marketing Board, Inc.