Paradise Potato Gnocchi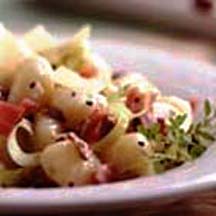 Tender gnocchi, little Italian potato dumplings, are tossed in a leek and shiitake mushroom sauce and topped with prosciutto, gruyère cheese and black sesame seeds.
Recipe Ingredients:
Gnocchi:
2 1/4 pounds large Idaho Russet potatoes
1 large egg
2 cups all-purpose flour
1 teaspoon sea salt
1/2 teaspoon fresh ground black pepper
1/8 teaspoon ground ginger

Sauce:
1 large leek (washed, green parts and root trimmed off)
2 minced garlic cloves
2 tablespoons butter
1 cup Shiitake mushrooms, diced
2 teaspoons fresh grated ginger
4 tablespoons olive oil

Garnish:
4 ounces sliced Prosciutto, diced
Sea salt and fresh ground black pepper to taste
2 cups gruyère cheese, shredded
2 tablespoons black sesame seeds
Cooking Directions:
Pierce potatoes several times with fork. Place in a dish and cover with plastic wrap. Microwave until tender, turning once, about 15 minutes. Allow to cool. Cut potatoes in half lengthwise; scoop potato flesh into bowl; discard potato skins. Mash potatoes until smooth, no lumps, Mix in the egg.
Sift flour, salt, pepper and ground ginger over potato mixture and stir to combine. Knead gently with your clean hands. Divide dough into 8 pieces. Roll each piece on a lightly floured work surface into 1/2 inch diameter rope. Cut dough into 1 inch lengths. Make small football shaped ovals with each one, and then use the back of a fork to make grooves on one side of the gnocchi's.
Cook gnocchi in large pot of boiling salted water until gnocchi are tender and rise to surface, about 5 minutes. Using slotted spoon, transfer cooked gnocchi to an oven safe dish and keep hot in an oven set to 225°F (105°C).
Julienne the leek. In a large sauté pan, heat the butter over medium high heat. Add the leeks and garlic, cook while stirring for two minutes. Add the mushrooms and ginger; sauté another four or five minutes until most liquid is absorbed. Add the olive oil and toss. Remove the heat.
Remove Gnocchi from the oven. Toss the Gnocchi with the sautéed vegetable sauce, and the prosciutto. Season with salt and pepper to taste. Top with the Gruyere and the black sesame seeds.
Makes 8 servings.
Recipe and photograph provided courtesy of Idaho Potato Commission and the Art Institute of Los Angeles -Student Andie Lewis.