Risotto Primavera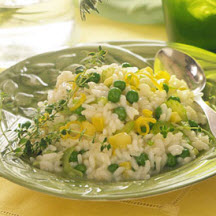 The traditional cooking method for risotto requires constant attention, this version offers an easier way to cook the classic rice and vegetable dish known for its creamy consistency.
Recipe Ingredients:
1/4 cup thinly sliced celery
1/4 cup thinly sliced shallots or green onions
2 cloves garlic, minced
1/8 teaspoon ground black pepper
1 tablespoon butter or margarine
1 cup arborio* or long-grain rice
1 (14-ounce) can reduced-sodium chicken broth
1 3/4 cups water
1/2 cup fresh or frozen peas, thawed
1/2 cup coarsely chopped yellow summer squash and/or zucchini
1/2 teaspoon finely shredded lemon peel
Fresh herb sprigs (optional)
Cooking Directions:
In a large saucepan, cook celery, shallots or green onions, garlic, and pepper in hot margarine or butter until tender. Add uncooked rice. Cook and stir 2 minutes more. Carefully stir in broth and water. Bring to boiling; reduce heat. Cover; simmer 25 minutes (do not lift cover). Remove from heat.
Stir in peas, squash, and lemon peel. Cover and let stand 5 minutes. Serve immediately. Garnish with fresh herb sprigs, if desired.
Makes 6 servings.
Tip: This is a low-sodium recipe, if desired, season with salt to taste.
Traditional Method: Cook celery, shallots, garlic, and pepper as directed above; add uncooked rice. Cook and stir for 2 minutes more. In a medium saucepan, bring chicken broth and water to boiling. Add broth mixture, 3/4 cup at a time, to rice mixture, stirring constantly until liquid is almost absorbed after each addition. Rice will be almost tender but firm to the bite. (It should have a creamy consistency.) This should take about 20 minutes. During cooking, adjust the heat as necessary to keep the broth at a gentle simmer. Stir in peas, squash, and lemon peel. Cover and let stand for 5 minutes. Serve immediately.
*Arborio rice, grown in northern Italy, is traditionally used for risottos. Use long-grain rice if arborio isn't available.
Nutritional Information Per Serving (1/6 of recipe): calories: 156, total fat: 3g, saturated fat: 0g, cholesterol: 0mg, sodium: 227mg, carbohydrate: 29g, fiber: 1g, protein: 4g
Recipe and photograph provided by Better Homes and Gardens - BHG.com a member of the Home and Family Network for the best of cooking, gardening, decorating and more. © 2003 Meredith Corporation. All Rights Reserved.