U.S. Senate Special Session Bean Soup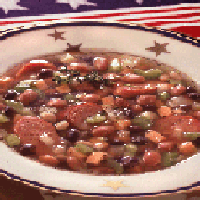 Bean soup is on the menu in the Senate's restaurant every day. There are several stories about the origin of that mandate, but none have been corroborated.
Recipe Ingredients:
8 ounces turkey smoked sausage, cut into 1/2-inch slices
1 cup chopped onion
1 cup sliced celery
2 teaspoons minced garlic
1 tablespoon vegetable oil
1 1/2 quarts reduced-sodium chicken broth
2 cups cubed, peeled sweet potatoes
2 cups cubed, peeled baking potatoes
1 (15-ounce) can navy beans, rinsed and drained
1 (15-ounce) can pinto beans, rinsed and drained
1 (15-ounce) can black beans, rinsed and drained
3/4 teaspoon dried thyme leaves
1 bay leaf
1 1/2 to 2 teaspoons salt
1/2 teaspoon ground black pepper
Cooking Directions:
Sauté smoked sausage, onion, celery and garlic in oil in Dutch oven until sausage is browned, 5 to 8 minutes.
Add remaining ingredients and heat to boiling; reduce heat and simmer, covered, until potatoes are tender, 10 to 15 minutes.
Makes 8 servings (about 1 1/2 cups each).
Nutritional Information Per Serving (1/8 of recipe): Calories 307; Fat 6g; % Calories from Fat 18; Potassium 726mg; Carbohydrate 44g; Folate 160mcg; Sodium 1288mg; Calcium 88mg; Protein 20g; Dietary Fiber 9g; Cholesterol 36mg.
Recipe and photograph provided courtesy of The Bean Education & Awareness Network.