Alaskan Cioppino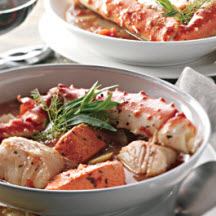 Despite its name, cioppino is a fish stew that originated in San Francisco, not Italy.
Recipe Ingredients:
4 tablespoons olive oil
1 onion, chopped
1 cup sliced green bell pepper
1 cup chopped celery
2 garlic cloves, crushed
1 (28-ounce) can whole tomatoes
1 (8-ounce) can tomato sauce
1 cup clam juice
1 cup dry white wine
1 teaspoon dried basil
1/4 teaspoon dried thyme
1 bay leaf
1 pound cod, cubed
24 whole clams
1/8 teaspoon liquid hot pepper sauce
1/4 cup chopped flat-leaf parsley
1 cup croutons
Cooking Directions:
In a large kettle, heat olive oil over medium heat and sauté chopped onion, sliced green bell pepper, chopped celery, and crushed garlic cloves until tender.
Add whole tomatoes (undrained), tomato sauce, clam juice, white wine, basil, thyme, and bay leaf. Simmer covered for 30 minutes.
Add cubed cod, whole clams, and liquid hot pepper sauce. Continue cooking an additional 5 minutes, or until the clam shells open.
Garnish with chopped parsley and croutons.
Makes 6 servings.
Recipe and photograph courtesy of the Alaska Seafood Marketing Institute.