Ancho-Spiced Beef Stew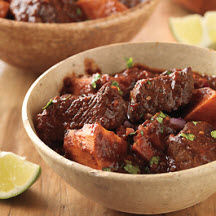 Recipe courtesy of The Beef Checkoff.
Recipe Ingredients:
2 pounds beef chuck shoulder pot roast, cut into 1-inch pieces
2 ancho chiles (dried chiles)
1 cup boiling water
3 tablespoons cornmeal
1/2 teaspoon salt
1 tablespoon ground cumin
2 tablespoons vegetable oil
2 (14.5-ounce) cans spicy diced tomatoes
2 medium sweet potatoes, peeled, cut into 3/4-inch pieces
Optional Toppings: Chopped red onion, chopped fresh cilantro, sour cream, lime wedges
Cooking Directions:
Remove and discard stems and seeds from chiles. Pour boiling water over chiles in medium bowl; let stand 20 minutes or until chiles are softened. Drain chiles, reserving 1/2 cup of liquid.
Place chiles, reserved 1/2 cup liquid, cornmeal and 1/2 teaspoon salt in food processor container. Cover; process until smooth. Set aside.
Coat beef with cumin.
Heat 1 tablespoon vegetable oil in stockpot over medium heat until hot. Brown half of beef; remove from stockpot. Repeat with remaining oil and beef. Pour off drippings; return beef to stockpot. Add tomatoes and ancho chile mixture to stockpot. Bring to a boil. Reduce heat; cover tightly and simmer 1 3/4 hours.
Add sweet potatoes to stockpot; bring to a boil. Reduce heat; cover and continue cooking 25 to 30 minutes or until sweet potatoes and beef are fork-tender, stirring once.
Serve stew with Toppings, as desired.
Makes 6 servings.
Tip: 2 (14.5-ounce) chili-style diced tomatoes may be substituted for spicy tomatoes.
Nutritional Information Per Serving (1/6 of recipe): Calories: 286; Total Fat: 11g; Saturated Fat: 2g; Cholesterol: 57mg; Total Carbs: 20g; Fiber: 4g; Protein: 26g; Sodium: 549mg.
Recipe and photograph courtesy of The Beef Checkoff.