Asparagus Soup Marseilles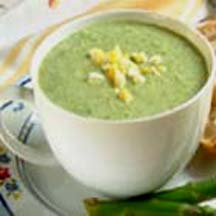 An elegant purée of asparagus soup garnished with chopped hard-boiled egg.
Recipe Ingredients:
1 pound asparagus spears
1/2 cup water
2 1/2 cups milk
1 teaspoon dried onion flakes
1 teaspoon salt
1 teaspoon dry mustard
1/2 teaspoon capers
1/8 teaspoon ground black pepper
1 large egg, hard-boiled and chopped
Cooking Directions:
Chop asparagus spears and cook in water until tender, about 5 minutes; drain.
In a blender or food processor, combine the asparagus with milk, dried onion flakes, salt, dry mustard, capers, and pepper. Process until smooth. (Caution! Hot liquids create steam which will blow the top off the blender! Be sure to securely hold blender lid down!)
Heat to serving temperature and garnish with chopped, hard-boiled egg.
Makes 4 servings.