Chipotle Pork and Pepper Stew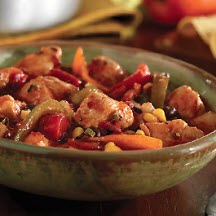 There are a lot of ways to make this stew your own—for example, you can adjust the heat by using more or less chipotles, or use different colors of peppers, different types of beans, or different combinations of both. You can serve it garnished with sour cream or avocado, or over rice or polenta. On the side, try a crisp green salad and plenty of warm tortillas.
Recipe Ingredients:
1 1/2 pounds New York (top loin) pork roast, or boneless pork loin chops, trimmed, cut into 3/4-inch dice
1 1/2 tablespoons canola oil, or other neutral-flavored oil
2 to 4 canned chipotle chile in adobo sauce*, minced
1 teaspoon salt, or more to taste
2 bell peppers, ideally 2 different colors, seeded and sliced
1 large red onion, or white onion, sliced
2 (14 to 15-ounce) cans diced fire-roasted tomatoes
1 (15-ounce) can black beans, or pinto or kidney beans
2 cups corn kernels, freshly sliced off the cob (or use frozen or canned)
2 tablespoons fresh oregano, chopped
Cooking Directions:
In a large saucepan or small stockpot over medium-high heat, warm the oil. Add the pork, chipotles, and salt and cook, stirring occasionally, until no longer pink on the outside, about 4 minutes.
Add the peppers and onion and cook, stirring occasionally, until the peppers and onions are starting to soften, about 4 minutes.
Add the tomatoes (with their juices) and 1 cup of water, scraping up any browned bits on the bottom of the pot. Bring to a boil, reduce to a simmer, and cook, stirring occasionally, until the pork, peppers, and onion are tender, about 15 minutes.
Stir in the beans (with their juices) and corn and cook, stirring occasionally, until heated through, 5 to 8 minutes. Add the oregano and additional salt to taste.
Makes 8 servings.
*You can find canned chipotle peppers in adobo sauce in the ethnic or Latin section of most major supermarkets.
Nutritional Information Per Serving (1/8 of recipe): Calories: 260; Total Fat: 9g; Saturated Fat: 2g; Cholesterol: 45mg; Total Carbs: 23g; Fiber: 5g; Protein: 20g; Sodium: 860mg.
Recipe and photograph provided courtesy of National Pork Board.