Easy Hamburger Vegetable Soup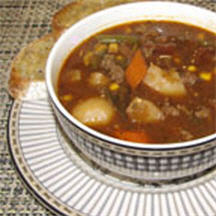 This is one of our most popular recipes. Economical, quick and easy, this wholesome and delicious soup is a satisfying meal in a bowl. Serve with hot cornbread or crusty bread rolls to round out the meal.
Recipe Ingredients:
1 medium onion, chopped
6 cloves garlic, chopped
2 stalks celery, sliced
1 medium bell pepper, coarsely chopped
4 medium potatoes, peeled and cubed
4 large carrots, pared and sliced
1 pound lean ground beef
1 (28-ounce) can diced tomatoes, undrained
8 cups of water
2 1/2 tablespoons beef base or bouillon granules
1 large bay leaf
1 teaspoon dried basil leaves
1 tablespoon dried parsley leaves
1 tablespoon Worcestershire sauce
1 teaspoon Tabasco sauce (optional)
1 teaspoon kosher or sea salt, or to taste
1/2 teaspoon freshly ground black pepper, or to taste
Cooking Directions:
Prep the first 6 ingredients and set aside.
In a large cooking pot, brown the ground beef over medium high heat; drain excess grease.
Add the onion and garlic; cook until onion has slightly softened, about 2 to 3 minutes.
Add the tomatoes, water, beef base, bay leaf, basil, parsley, Worcestershire sauce, Tabasco, salt and pepper. Bring to a boil.
Add the bell pepper, celery, potatoes and carrots and bring to a boil; cover and simmer until vegetables are tender.
Makes 8 servings.
Tips:
For an easy flavor variation, add a jar of marinara or spaghetti sauce to the soup, then toss in some cooked cheese tortellini or ravioli at the end.
Almost any fresh or canned vegetables can be added to the soup pot, just let go and release your culinary creativity.
Nutritional Information Per Serving (1/8 of recipe): 278.6 calories; 39% calories from fat; 12.0g total fat; 42.5mg cholesterol; 491.8mg sodium; 1116.2mg potassium; 30.1g carbohydrates; 4.0g fiber; 5.3g sugar; 26.1g net carbs; 13.7g protein.
Recipe and photograph by Hope Cantil; copyright © 1999; property of CooksRecipes.com. See Terms of Use.