Fiesta Beef Soup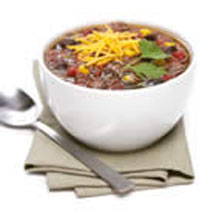 Mouth party! Spice up your dinner with this sure-to-please winner.
Recipe Ingredients:
1/2 pound lean ground beef or turkey
1/2 onion, finely chopped
1 clove garlic, minced
1 teaspoon ground cumin
1 (15 ounce) can black or pinto beans, undrained
1 (14.5 ounce) can DEL MONTE® Petite Cut Diced Tomatoes with Jalapeños, undrained
3 cups COLLEGE INN® Beef Broth (or COLLEGE INN® Beef Sirloin Bold Stock to punch it up a notch)
1 (8 3/4 ounce) can DEL MONTE® 50% Less Salt Whole Kernel Golden Sweet Corn, undrained
1/4 cup chopped cilantro (optional)
Cooking Directions:
Brown meat with onion, garlic and cumin in 4-quart saucepan; drain. Season to taste with salt and pepper.
Stir in remaining ingredients. Cook over medium heat, 10 minutes. Serve with hot sauce and garnish with broken tortilla chips and shredded Cheddar cheese, if desired.
Makes 12 servings.
Tips:
Soup can be made ahead.
Soup freezes well.
Recipe and photograph courtesy of www.collegeinn.com; through Coburn Communication, Inc.