Italian Cupboard Soup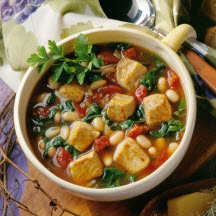 Everything you need to make this easy and satisfying soup — except for the boneless pork chops and fresh spinach — can usually be found in the pantry. Complete the meal with warm Italian bread and a salad of mixed greens. Be sure to brown the pork well for best flavor results.
Recipe Ingredients:
2 boneless top loin pork chops, cubed
Salt and ground black pepper, to taste
Garlic powder, to taste
1 (14.5-ounce) can chopped tomatoes, undrained
1 (14.5-ounce) can chicken broth
2 tablespoons dried minced onion*
1 (15-ounce) can cannellini or great Northern beans, drained and rinsed
8 ounces fresh spinach leaves, torn
Freshly grated Parmesan or Romano cheese for accompaniment
Cooking Directions:
In a deep saucepan, brown the pork in a little oil; season with salt, pepper and garlic; add all ingredients except the spinach; bring to a boil, lower heat and simmer for 15 minutes.
Stir in torn spinach and cook for 2 more minutes. Taste and adjust seasonings as desired.
Top servings with grated Parmesan or Romano cheese.
Makes 2 to 4 servings.
*Or substitute with 1/2 small onion, chopped. Stir into the browned pork and soften before adding the ingredients in step 1.
Recipe and photograph provided courtesy of National Pork Board.