Pecos Red Stew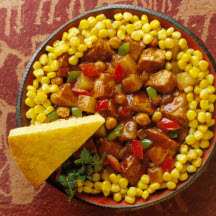 Richly flavored, this is a robust Texas-style stew featuring pork and vegetables. It's great served with hot cornbread and a fresh fruit combo of sliced oranges and pineapple spears.
Recipe Ingredients:
2 pounds boneless pork shoulder or sirloin, cut into 1-inch cubes
2 tablespoons vegetable oil
2 cups chopped onion
1 cup chopped green bell pepper
2 cloves garlic, minced
1/4 cup chopped fresh cilantro leaves
4 tablespoons chili powder
2 teaspoons dried oregano leaves
1 teaspoon salt
1/2 teaspoon crushed red pepper
2 (14.5-ounce) cans chicken broth
3 cups cubed (1-inch), peeled potatoes
2 cups fresh or frozen kernel corn
1 (16-ounce) can garbanzo beans, drained and rinsed
Cooking Directions:
Heat oil in Dutch oven. Brown pork over medium-high heat. Stir in onions, green pepper, garlic, cilantro, chili powder, oregano, salt, red pepper and chicken broth. Cover; cook over medium-low heat for 45 to 55 minutes or until pork is tender.
Add potatoes, corn and beans. Cover; cook 15 to 20 minutes longer.
Makes 8 servings.
Recipe and photograph provided courtesy of National Pork Board.