Pork and Zucchini Stew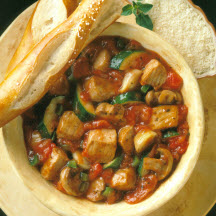 Have extra zucchini from your garden? Did the neighbor's zucchini bush have a bumper crop? Try this stew with some bread and a side salad.
Recipe Ingredients:
3 boneless pork chops, cut into 3/4-inch cubes
3 tablespoons all-purpose flour
1/2 teaspoon garlic salt
1/2 teaspoon ground black pepper
1 tablespoon vegetable oil
1 medium onion, chopped
1 green pepper, chopped
4 cups sliced fresh mushrooms
2 (14.5-ounce) cans stewed tomatoes, undrained
2 medium zucchini, halved lengthwise and sliced 1/2-inch thick
2 teaspoons dried dried basil, crushed
1 teaspoon dried oregano, crushed
1/3 cup freshly grated Parmesan cheese
Cooking Directions:
In a plastic or paper bag combine flour, garlic salt and pepper. Add pork cubes; shake until coated with flour mixture. Set aside.
In a Dutch oven heat oil over medium-high heat. Cook and stir onion and green pepper until onion is tender but not brown. Add pork, cook and stir for 2 to 3 minutes or until browned.
Stir in mushrooms, tomatoes, zucchini, basil and oregano; bring to boiling, reduce heat, cover and simmer for 10 minutes or until pork is tender, stirring occasionally.
Spoon stew into individual soup bowls. Sprinkle with Parmesan cheese.
Makes 6 servings.
Recipe and photograph provided courtesy of National Pork Board.